The Shape Bandit Song is one of the songs sang in Team Umizoomi VS. The Shape Bandit. The Lyrics can be found here http://www.nickjr.com/printables/umi-shape-bandit-song-sheet.jhtml.
Lyrics
Shape Bandit
Trivia
During the Shape Bandit song, The Shape Bandit says "One man's ho-hum is another's Joie de Vivre!" which is a homage to the phrase "One man's trash is another man's treasure."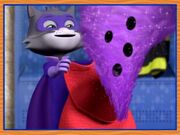 Community content is available under
CC-BY-SA
unless otherwise noted.