Jurassic World: Dominion Dominates Fandom Wikis - The Loop
Play Sound
This vast Shopping Mall, which is a big building full of floors of stores, was along the route in Crazy Skates.
Departments
The Crazy Skates went wild through the shopping mall and made Bot helplessly go through some of the shops. The skates went so fast that Geo and Milli couldn't follow which store Bot was in. Luckily, Bot used their Umi-Phones to call them and gave hints to which store he was rolling. First, they went into the Clothing department.
Clothing
Hat Store
Shoe Store
Jewelry Store: Bot was on the loose in this store full of earings, bracelets, and necklaces. Luckily, nothing was broken, but soon, he rolled out of the shop and into the Wares and Decor Department.
Wares and Decor
Camping Store: With the clues flashlights, tents, and sleeping bags, Mili and Geo saw Bot roll right out of this store full of camping materials and into the Food Department.
Book Store
Lamp Store
Food
Bakery
Juice Store
Pizza Restaurant: This restaurant is one of the places that the mall's customers can take a break from shopping and have supper. The restaurant is run by an Italian chef. Bot, unfortunately, was rolling right through this restaurant. He soon rolled right out the door, ending the Crazy Skate pursuit inside the Shopping Mall.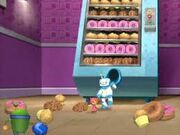 Other Appearances